A Guide To Hiking Through Galicia
It's impossible to explain this trip in a two minute video so here's all the details and some extra info. 🙌
In this short guide I'll include
Where - What places did I go to?
How - What did things cost?
Why - Pictures to convice you this is a good trip
Extras - Making the Video, Process, Camera Equipment, etc
Primer - Why?
In 2016 I walked the Camino Portuguese with my dad(@peteBillingham) and sister(@FromABackpack), we Started in Porto and walked via the costal route to Santiago.
We had an afternoon in A Guarda after crossing via the ferry at Caminha. I was looking for somewhere to hike and fly my drone. Castro de Santa Trega a historical site of 1st Century BC ruins is a short walk from town sitting atop a hillside but anticipating large numbers of tourists I opted to find somewhere else. This lead me here to find a secluded trail, on the opposite side of town.
The next two days followed a similar pattern while we walked further along the Camino each evening I would venture back up to the ridge both in Oia and Moguas. Looking at the map I figured it would be possible to hike between these points and stashed it away for a future adventure.
Fast Forward to 2017 I found some cheap flights on Ryanair and off I went.
Basic Plan
Get to Galicia and Hike for 3-4 days around A Guarda/Oia/Mougas/Baiona
Birmingham -> Porto ~ Find cheap flight
Porto -> Caminha ~ Bus
Caminha -> A Guarda ~ Ferry + Hike
A Guarda -> Baiona ~ 3-4 days Hiking (stopping along the way)
Baiona -> Porto ~ Bus maybe via A Guarda again
Porto -> Birmingham ~ Cheap flight home

Detailed Route
The trip didn't quite do according to the plan above. First issue being no ferries crossing Caminha <> A Guarda in March, ooops. I was directed to ask a fisherman to take me as it was 20miles around via the nearest bridge. A little apprehensive but I walked 2miles to Praia da Foz, I asked a fisherman who called Mario after shouting to his mates on the balcony. Mario showed up after a few minutes and took me across for €5.
Below is the rough route I took. I made it up as I went along, trails/paths etc are much easier to see when on the ground although there are a little bits where going rouge might be necessary.
Day One: Bus from Porto to Caminha. Walk to Praia Da Foz. Boat to Spain with Mario. Walk into A Guarda.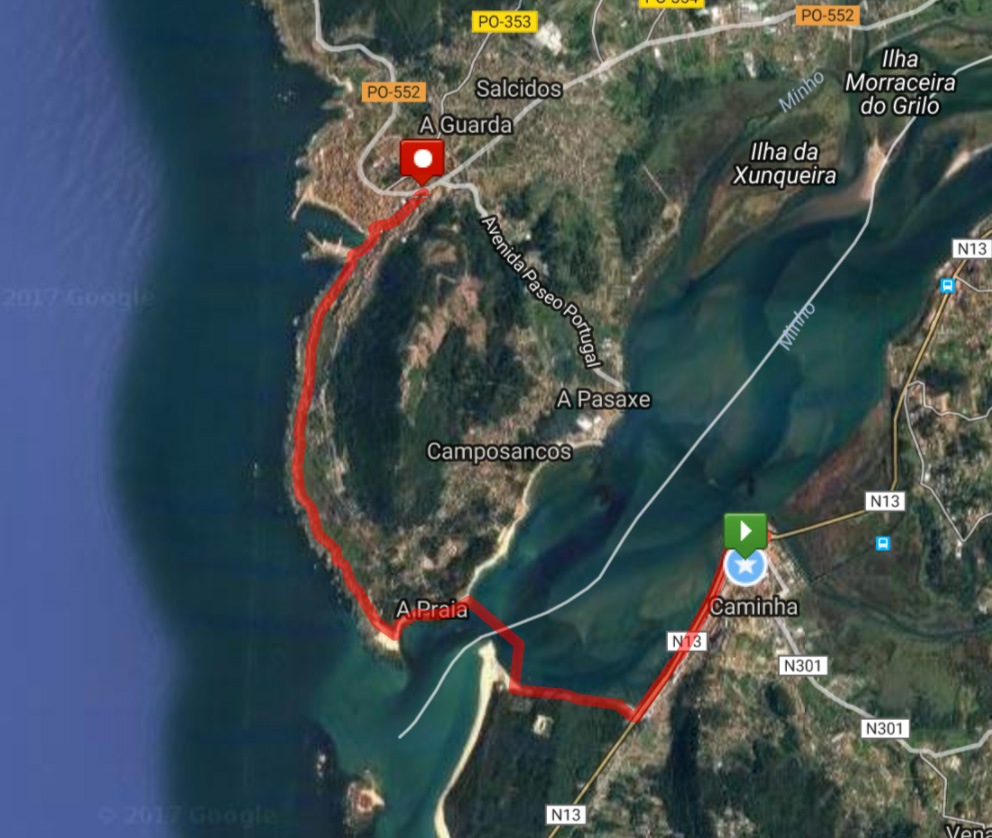 Day Two: A Guarda to Oia. Getting down from the ridge when overlooking Oia is interesting. Both last year and this trip it look some guesswork. It might look impossible but there are "trails" down.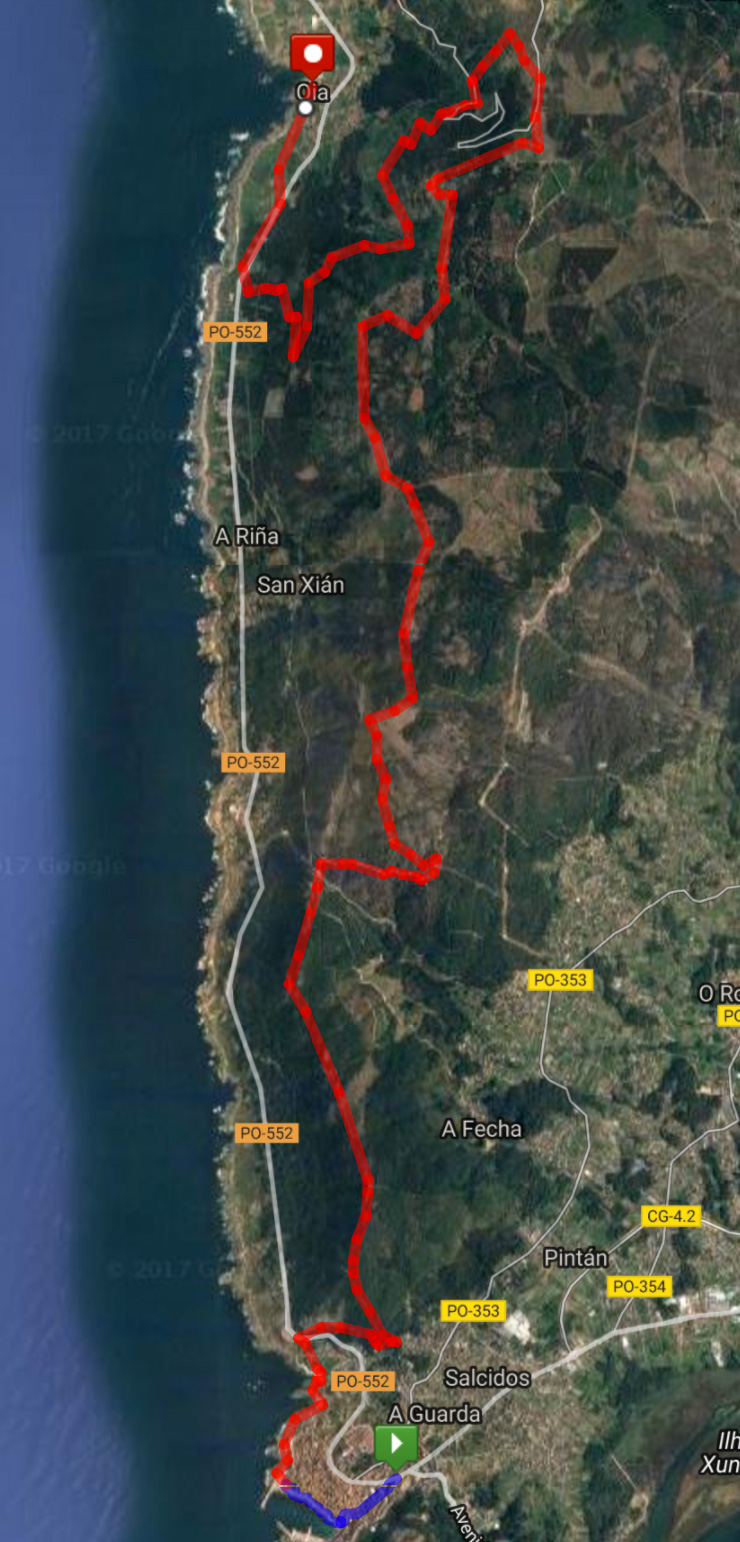 Day Three: Oia to Baiona. Had to make my way past far too many wild horses and cows, not my favourite. Maybe don't go this way.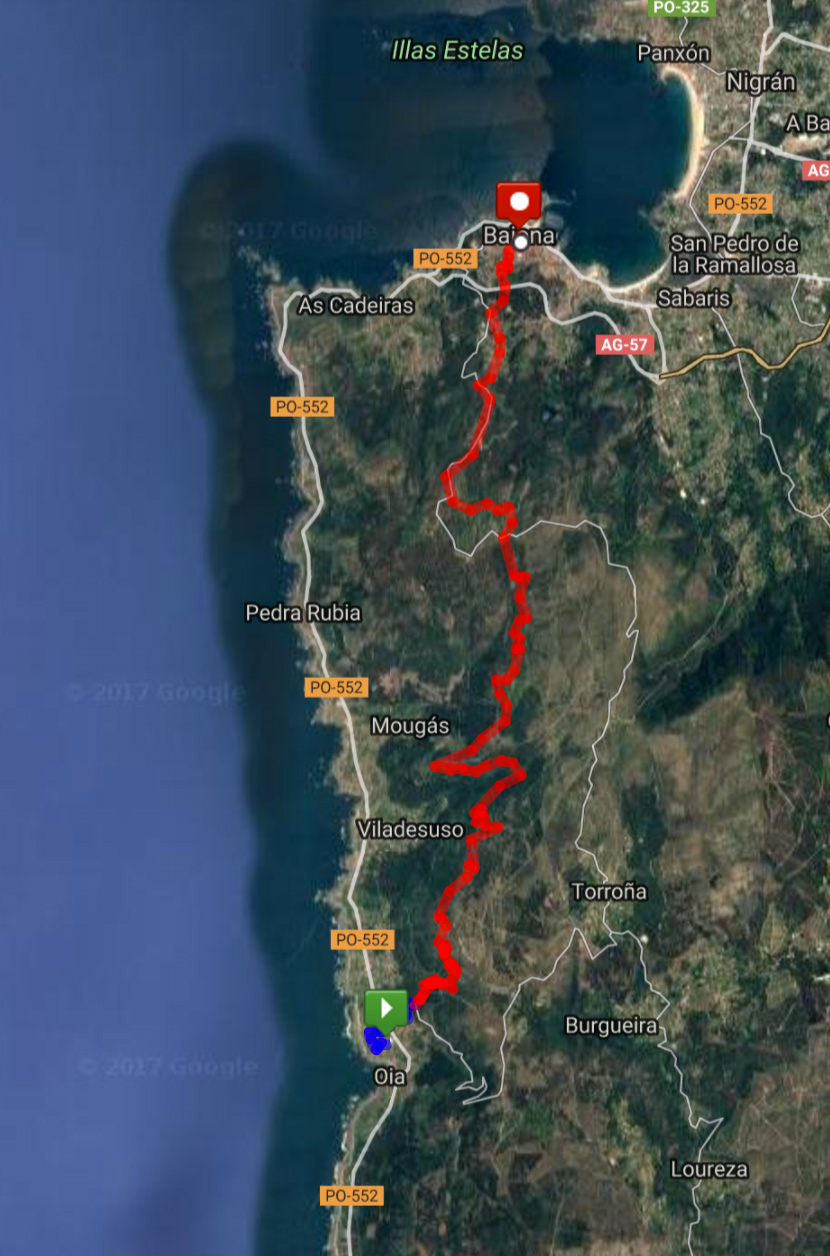 Day Four, Five, Six: Out to this spot and back. This place can be seen in the penultimate shot in the video. I went three days in a row because I was hoping for good weather which I finally got on day three :)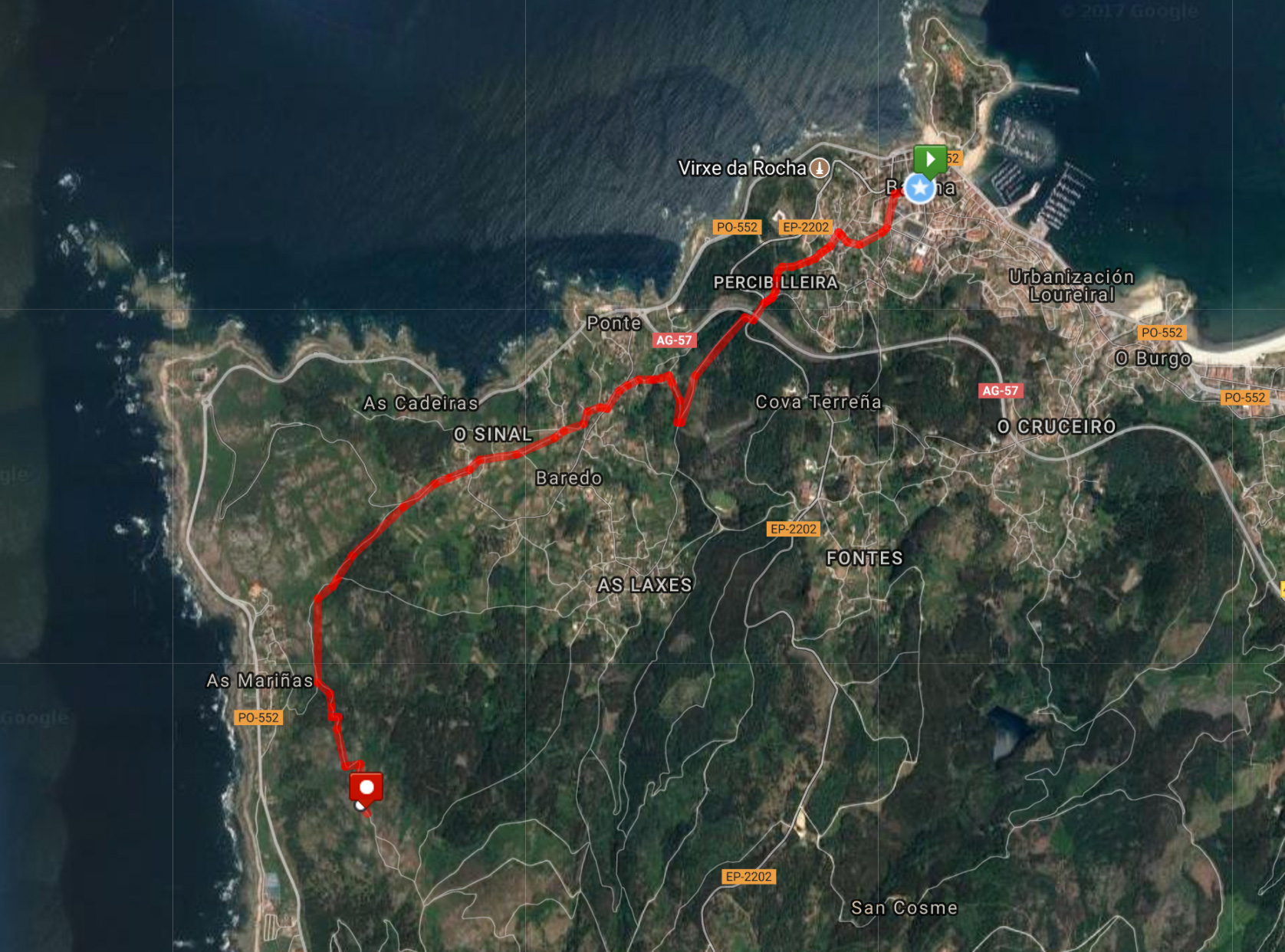 Cost Breakdown
Transport ✈️🚍
Train to Birmingham Int - £8.80
Flights BHX -> OPO - £21.44(€24.47) + £36 + £23.76(€27.12) = £81.20*
Tram From Airport - €2.5
Bus Porto -> Caminha - €6
Boat to Spain with Mario - €5
Bus Baiona -> Porto via Vigo
-ASTA Baiona -> Vigo ~€2.5
-Autna Vigo -> Vigo €12
Tram To Airport - €2.5

Total = £120
*The cheapest flights on the day I wanted went via Madrid, if I went a few days earlier/later it could have been cheaper going direct. Not terrible considering it was 3 flights. I also pick good arrival/departure times and not always the bottom pice.

Quick Tip - I use my Monzo card for any international payments it has the best rate possible passing the Mastercard rate to you, often 10% better than a high street bank, honestly ridiculous.

Quick Tip 2 - Rome2Rio works well for me when looking up local bus/train availability + costs.
Accomodation 🏠🏨
I did originally plan to wild camp some of this trip but with the weather looking bad and carrying all my video equipment I decided sleeping indoors sounded great. My general go to is Hostelworld for a hostel but because of this route I had to use http://booking.com and find cheap hotel rooms.
Porto Blue Sock - €13 (nice hostel and breakfast included)
A Guarda - €27 -
Oia - Hotel Raina (breakfast included) €41.50 expensive but
Baiona 3x Nights €25 1st night - €20 2nd/3rd
Porto 1 Night - Porto Blue Sock - €13
Total = €172.5 ~ £151 for 7 Nights
Quick Tip - There are albuerges in Caminha + Moguas + Vigo if you are doing the Camino route. I did not pick up a camino passport on this trip because I felt it wrong to use them when not doing the full route.
Food 🍕 🍏
Breakfast was included at the hostel in Porto, hotel in A Guarda and Oia. Daytime snacks usually include apples, nuts & chocolate. Extras included:
Madrid airport food $$$ ~£10
Caminha - Veggie burger ~£10
Baiona - Fancy Breakfast ~£12
Baiona - Pizza x2 €7.5 👌
Baiona - Cafe breakfast x2 ~£2.5
General supermarket food for week ~£20
Total = £72
Activities
Hiking is Free +++ 🙌
Total Cost 7Nights = ~£343
What Did I Pack
This was a through hike meaning each day I moved on to a new place. This requires everything in one pack as small and light as possible. I cant quite remember the bag weight but think it was ~12kg, not too heavy but I want to get this lighter on future trips.
-Clothes = Shorts x3, shirt x 4, Down Jacket, Rain jacket, Single pair of shoes (Vivobarefoot). Keep it simple.
-Food = The only food I took with me beforehand was 4 cliff builder bars and 4 naked bars. Generally carrying apples + chocolate to keep me going through the day.
-Laptop = Yes I know it's unnecessary, I was considering daily videos 😂.
-See below for Camera Equipment
When Did I Go
The trip on the video was March 22nd - March 29th, it was colder/wetter than I expected.
Making the Video
It's hard to explain how difficult it was to make this video. I honestly spent days looking at the timeline making zero progress because I couldn't figure out how to get from what I had to what I wanted.
The technicalities of making videos are easy. Cutting clips, layering videos, transitions and slow motion all simple enough but the creative aspect of creating something that holds attention and is captivating… that is truly a challenging.
I'm not there yet but i'm dedicated to improve my videos. I'm so glad I stuck with this long enough to make something I'm happy with, it would have been so easy to leave these clips on my hard drive forever.
Equipment
This was the first time I used my new camera, the Sony a6300.
*I've made a profile on Kit that shows all of the gear I use now. It's a platform to showcase gear and helps creators by using their affiliate links with Amazon. So far I've made approximately £zero (06/06/2017) from affiliate links, I'll be back to update that number when its brings home the money! Of course I would appreciate any support through using kit
One more Thing
I hadn't really thought about it before but Spain's timezone + latitude create super late sunsets. On the longest day sunset is at 10:17pm and twilight lasts hours, sure other places have far longer days but they're nowhere near Spains latitude where the weather is warm and sunny.
Read more about this on how-much-is-time-wrong-around-the-world it's super interesting.
p.s I hope this was useful, ask away if you have any questions. Twitter - @sambillingham